Hey guys!! I'm a bass guitar player Juna Serita!!
Today I had a gig with piano trio band called Lab. at club CACTUS in Nogisaka,Tokyo.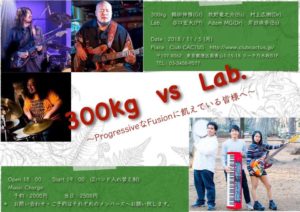 The another act is 300 kg. I've heard 300 kg is amount of their weight ,but according to the guitar player Tsuruta-san, the amount is over 300 kg ,most likely 350 kg. lol That's awesome !! And I like Tsuruta-san's talk on the stage too; )!
Lab. had been working on recording , so we didn't have a gig for a while . It's been a long time.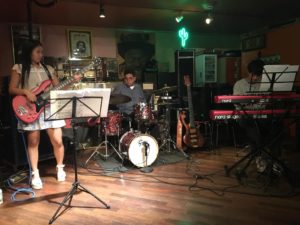 I can say we're getting better, but there is still a lot of room for improvement . We all think so. ; )
About 300kg 's performance , they are great !!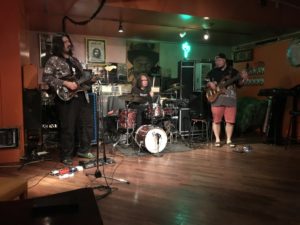 I was really interested in the band but I didn't have a chance to come and see their show. So lucky for me .
I exactly realized the bass player Makino-san can play finger picking very fast. And also he has enough stamina for that. He is badass…
The drummer Hiroki Murakami, I played with him several times when I was university student ; ) ! I'm so happy that I saw him for the first time in a while .  And actually we're gonna have a plan to perform together at the end of month :) I'm excited about it ♪
Lab. will have one more gig this month which is on November 24th.  The venue is my favorite bar ♪
If you're free, book your schedule please ; )
See ya!!
Juna.