Hey guys!! I'm a bass guitar player Juna Serita!!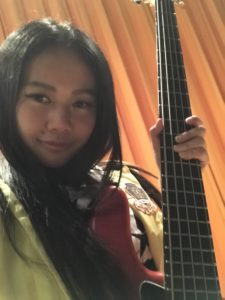 I'm soooooo happy because the hotel's buffet was awesome !!!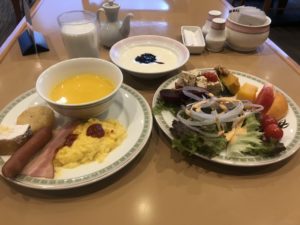 I'm over the moon : D yum yum
TodayTokyo Brass Style had a concert in Horonobe !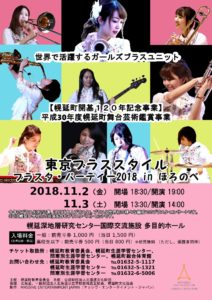 Today's our theme is "adult "…..
We are a big band , but our style might be different with others . We aren't allowed to use music charts on the stage usually  , and not only playing instrument but also dancing …!!!!
That is Tokyo Brass Style .
However as I mentioned  today's our theme is "Adult "…..   So at the 1st set, we all sit on chairs and used charts .
All songs on 1st set are new for most members including me.
1st  set list
Yoakemichi

 

Youkai Bingen Bemu

Dokaben

Grand Slam

Kaze No Oka

Ai Oboeteimasuka

Sazae Ikka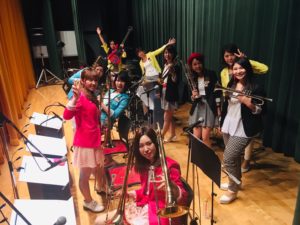 I'm pretty sure we looked nervous ,yes I was really nervous actually . lol 
The great thing is , Tokyo Brass Style's song allengemant is mad cool. That's why I could really enjoy practicing . 
I hope we'll have opportunities to play these songs again someday ; )
Afterwords, we performed as usual at the 2nd stage : )
2nd set list
1.Astro Boy
2.Cuty Honey 
3.Hyokkori Hyotan Jima
4.A Cruel Angel's Thesis
5.Take me home country road 
6.Pazue No Rappa
Encore : 8man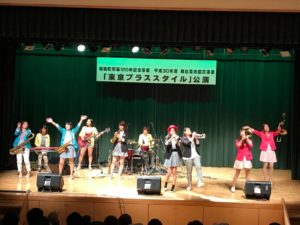 Thanks for coming everyone !!!
Tomorrow also we're gonna have a concert at the same place but the set list is totally different ! ! So definitely you can enjoy tomorrow too even though you already saw our show today.
See ya : ) !!
Juna.