Hey guy!! I'm a bass guitar player Juna Serita!!
Today I was recording  bass tracks for an collaboration.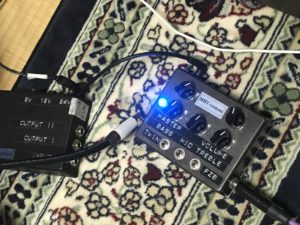 My gear is 
・Bass guitar (Fender )
・cables 
・Pre amp (MBT-CUSTOM )
・Audio-interface
That's all !!  I don't have any bass amp that I can use for work actually . I have only small one for practice .
When I need to record bass guitar at home , this pre-amp always helps try bass sounds  a lot these days .!!  It's dope. I'm really afraid to end up to can't  live without this pre-amp ….. lol
This is the builder Kano-san!!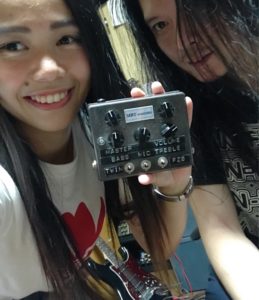 According to him, one day he was looking for new artist on youtube. And he found a great singer song writer called " Meajyu ".  He really liked her music so he bought her album and he looked her up on the internet,  Then he knew that I'm playing with her ,lol    He was really surprised .
I was using this pre-amp at the performance with Meajyu too ; ) 
Probably I'm gonna use it more often : ) 
Tomorrow I'm gonna record vocal track ! I'm so excited !
See ya!!
Juna.