Hey guys!! I'm a bass guitar player Juna Serita!!
Today I had a performance at Giga Bar Tokyo in Minami-Aoyama.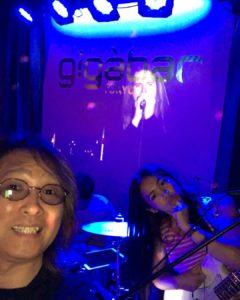 That's actually kinda rare that I perform here on Sunday .
It was a slow day , I was wondering why it is……
Then I noticed  there is a big summer festival which has fireworks  in Tokyo!!!!  Ohh that's why .. I can picture people hold their partner 's hand while seeing fireworks and it must be romantic ….
Don't worry !!!!  I don't envy them !! I don't feel lonely at all! I prefer to  work !!!!
Just nobody invited me to go there but it's okay ….. ; (     Feels like sweat coming from my eyes tho  …. ; (
みんなが恋人や友達、家族と花火見に行ってる間も私はベース弾いてました

べ、べつに寂しくなんか、、

(目から汁が。。 pic.twitter.com/OdelXCg7Il

— 芹田 珠奈 (@JunaSerita) July 30, 2018
See ya!!!
Juna.