Hey guys!! I'm a bass guitar player Juna Serita !!
Today I had a rehearsal for a singer song writer called yolis with this member !!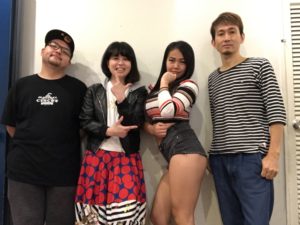 member
Vocal :yolis
Bass: Juna Serita
Keyboard : Gakushi
Drums : Toshiyuki Takao
We will performa on June 23rd at hyphen Jiyugaoka.  It'll be my second time to perform with the badass singer yolis!!!  She is my most favorite Japanese singer and also my best friend ; ) You can find her songs on apple music !! My most favorite songs are Getto Queen / Alice in a miller / I love you girl . : )!! My TOP 3!!
And … I'm huge fan of the keyboard player Gakushi actually !! His playing is awesome, I couldn't stop grinning while we're playing songs because of his dope groove !!!!!!!
The drummer Toshiyuki Takao, I really enjoyed to play with his drums  and pads !! He is lefty and his setting is kinda special according to Gakushi. Today's rehearsal studio was kinda tiny. So he couldn't set his drum as usual but he was still so great !
We will have one more rehearsal before the gig. I'm looking forward to playing with them again !!!
BTW I ran into a bass guitar player OKAPY  on the way to the rehearsal !!
I do love her playing and her personality of course this pretty face too ♪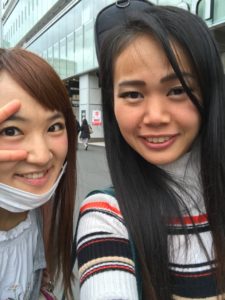 Our characters are opposite I guess . She is always bright like a sun and positive thinking.  She has many good points that I don't have . So I love and respect her ; )!! What a coincidence ♪
She made my feeling good all day ; )!!!thanks.
See ya!!
_________Pickup event schedules ________
6/23 yolis & Juna  @Jiyugaoka hiphen
7/1 Juna Serita Band @ 下北沢RPM
_________________________
Juna.