Hey guys!! I'm a bass guitar player Juna Serita!!
Today I had a rehearsal with Rie a.k.a. Suzaku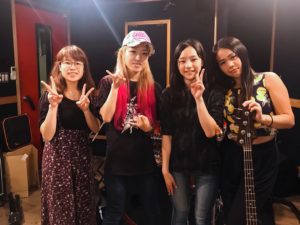 member
Guitar: Rie a.k.a. Suzaku
Keyboard : Marie Fukai
Bass: Juna Serita
Drums : Kanade Sato
I have played with the guitar player Rie for a while .  Her songs are actually quite difficult and change the rhythm a lot .  I was so confused when we played together at the first time.  However ,  I'm getting used to her songs little by little. Then the songs are very fun to play !! Dramatic , tricky , sometimes technical, there are a lot of attractions .
The keyboard player Marie Fukui,  on June 17th it'll be our first time to perform together but actually we already jammed. When I was hosting jam sessions , she came to play there ; ) !
About Kanade Sato, I watch her video sometimes but we had never ever played together . I'm so glad that I could hear her drumming in real rife.
I can't believe she is still hight school student . lol
She's got great chops . What a talented girl ….!!
Anyway I'm so looking forward to the show !
June 17th at Kichijoji Silver Elephant !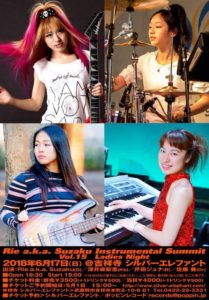 That must be fantastic !!
After the rehearsal , I had  bass lessons .
I used to teach bass guitar when I was 19~20 years old at a music school but I quite because I just wanted to focus on my performance .
But now , I'm already adult . And I got lots knowledge and experiences more than before. So I thought now I can help my students. : ) So I restarted teaching job this month ♪
See ya!!
_________Pickup event schedules ________
6/23 yolis & Juna  @Jiyugaoka hiphen
7/1 Juna Serita Band @ 下北沢RPM
_________________________
Juna.