Hey guys!! I'm a bass guitar player Juna Serita!!
What's up peeps ? I've been keeping quite busy .
As you know, I'm forming my own band !! And the 1st gig is on July 1st .
We had the first meeting a few days ago !!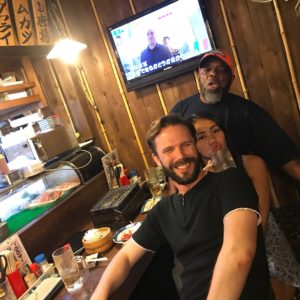 Guitar Ryan Carter and Drums Kenny Mosley !!
Of course I know both of them but it was their first time to meet  each other .
That was such a funny meeting !! lol  I completely  realized I chose the BEST members !! The band will be fantastic , I'm pretty sure . ; D
Anyway , I was thinking about the new name , because just "Juna Serita Band "is too normal , nothing special ,right?
We came up with an idea , seemed like they love the name ! but in the case if you have a nice idea about the band name , please let me know ♪♪
Anyway don't forget to book your schedule on July 1st !!!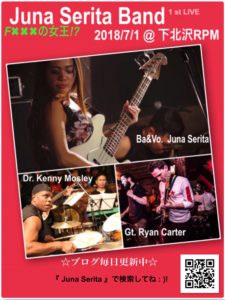 See ya!!
_________Pickup event schedules ________
6/23 yolis & Juna  @Jiyugaoka hiphen
7/1 Juna Serita Band @ 下北沢RPM
_________________________
Juna.