Hey guys!! I'm a bass guitar player Juna Serita!!
Today I went to have sushi for lunch with the mature guy Steve!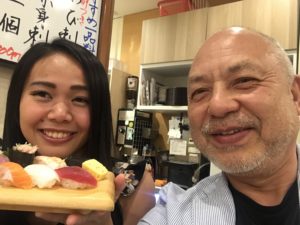 He is the owner of the bar called Ikebukuro Somethin' jazz club .
I often have jam session at the bar as host member .  Then we see each other but there is no time to talk enough .
I'm kinda introverted, so I always think something negative about myself .
Then Steve says
"You can do it , don't worry anything , just have confidence in yourself , like ' I'm a bass guitar player Juna Serita IN THE WORLD' !!"
I have no-confidence in myself but his word always make my mind better.
https://twitter.com/JunaSerita/status/993389575228698625
That was a fun time ; )  I could get a nice motivation ; )!
See ya!!
_________Pickup event schedules ________
💖5/20 Lab.  @ Fussa Cafe de Noel
💖6/23 yolis & Juna  @Jiyugaoka hiphen
💖Juna Serita Band @ 下北沢RPM
_________________________
Juna.