Hey guys!! I'm a bass guitar player Juna Serita!!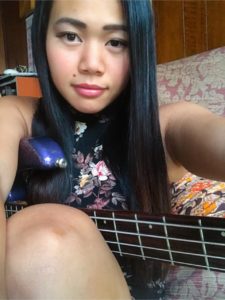 The drummer  Sina's new collaborate video has been uploaded on youtube !
I'm playing the bass guitar on it : )
Check it out and Please share on your SNS if you like it ⭐︎
Credits:
Charlotte Zone – Lead & Backing Vocals
Rap – unknown artist
Juna Serita – Electric Bass
Rick Benbow – Keyboard Bass & Keyboards
Mike Wilbury – Guitars
Sina – Drums
Written by Charlotte Zone & Doc Velasquez
I enjoyed the recording because this song is so lovely !! I can't believe the  vocalist   Charlotte Zone is only 12 years old….!!! How talented these two girls are…
BTW:
Tomorrow I'll have a jam session as host member at Somethin' Jazz Club B2 in Ikebukuro,Tokyo.

The vocalist  yolis is my favorite !! You guys can check her music on apple music/ Spotify/Google play music !
Why don't you jam with us tomorrow night ; ) ?
See ya!!
_________Pickup event schedules ________
4/30 yolis&Juna session@SOMETHIN' JAZZ CLUB B2 in Ikebukuro
Host member  Vocal:yolis / Bass: Juna Serita / Drums : Masatoshi Kanazawa/Guitar:Ryan Carter/Keyboard : Nobuhiro Takamoto/
20:00~ 23:00 charge 1,100 yen , 3drink 1,100 yen
5/20 Lab.  LIVE@ Fussa Cafe de Noel
6/24 yolis & Juna LIVE @Jiyugaoka hiphen
_________________________
Juna.