Hey guys!! I'm a bass guitar player Juna Serita!!
Today SHOKA OKUBO FUNKY PROJECT had a performance at Ikego US base in Zushi, Shizuoka!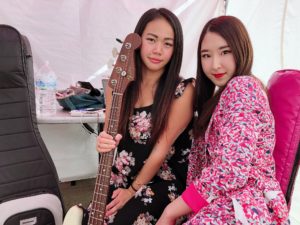 It was really beautiful weather , maybe I got sun-tan more..?
Actually , on the time table, the band name was written SHOKA OKABU ,but it is wrong ! lol 
SHOKA OKUBO FUNKY PROJECT is correct ; )!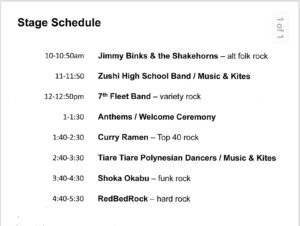 Today's SET LIST
1I wanna take a limo
2 Who did you think I was
3Soul Shine
4 Crosscut saw
5I'm yours and I'm hers 
6Hallelujah 
7The other side of me
8Peace
9Funk Rap
10Good to your earhole
11No one to run with
12 Crocodile tears
13The JAM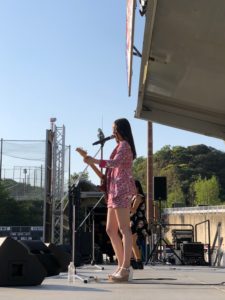 Thanks, always fun to  play with Shoka Okubo and Emi Yonekubo!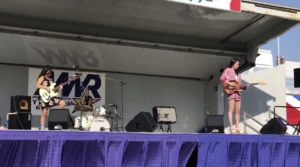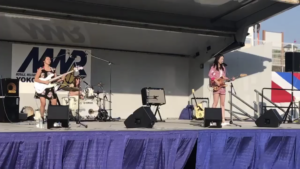 I needed to come back to Tokyo ASAP after the performance because I had another event .
So I couldn't eat Navy burger ; (! I wanted to try it ; (!
At the night , I had a jam session as host member at JAM SESSION in Okachimachi, Tokyo.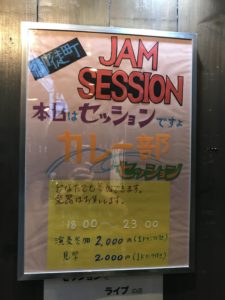 Today's host member
Gt. Naoto Saito
Ba. Juna Serita
Dr. Yu Sasaoka
I played not only  my electric  bass guitar , but also other kind of instruments.
A bass guitar player let me play the ukulele bass .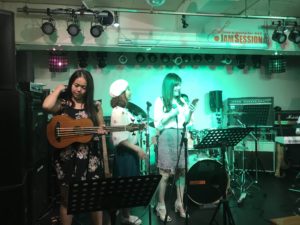 This is small and right but sounds great !!
And
drums…..  ; )
https://www.instagram.com/p/BiIgMkZDh0j/
I suck at it but I do enjoy playing the drum !!!  I look so  serious during playing bass guitar .  In the case of drums, I'm always wearing a smile on my face !
Anyway thanks for coming everyone!!
See ya!!
_________Pickup event schedules ________
4/30 yolis&Juna session@SOMETHIN' JAZZ CLUB B2 in Ikebukuro
Host member  Vocal:yolis / Bass: Juna Serita / Drums : Masatoshi Kanazawa/Guitar:Ryan Carter/Keyboard : Nobuhiro Takamoto/
20:00~ 23:00 charge 1,100 yen , 3drink 1,100 yen
5/20 Lab.  LIVE@ Fussa Cafe de Noel
6/24 yolis & Juna LIVE @Jiyugaoka hiphen
_________________________
Juna.