Hey guys! I'm a bass guitar player Juna Serita!!
Today I had a rehearsal of SOFP(SHOKA OKUBO FUNKY PROJECT) .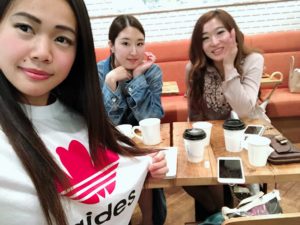 Guitar&Vocal : Shoka Okubo
Bass: Juna Serita
Drums: Emi Yonekubo
This is my favorite T-shirts ; )! Comfy.  You can't see it, but it is written "aides" , adidas of fake.  In Japanese ,the meaning of "ai des" is "This is love ".lol
We will have a performance at the US base  28th afternoon  .
We're gonna performa about 15 songs…? maybe.
At the night(28th) I'll have a jam session as host member at Okachimachi-jam session : )! That's J-pop session.  Let's jam with us ; )!
After the rehearsal , I had a performance at Giga bar Tokyo .
Do you know the song? Dancing' Queen – ABBA
https://twitter.com/JunaSerita/status/989266048212848640
I'm  shy to show my double chin while I'm playing the bass guitar .  That's why I set the camera this position to avoid show my  face…. lol
See ya !!
_________Pickup event schedules ________
💖4/30 yolis&Juna session@SOMETHIN' JAZZ CLUB B2 in Ikebukuro
Host member  Vocal:yolis / Bass: Juna Serita / Drums : Masatoshi Kanazawa/Guitar:Ryan Carter/Keyboard : Nobuhiro Takamoto/
20:00~ 23:00 charge 1,100 yen , 3drink 1,100 yen
💖5/20 Lab.  LIVE@ Fussa Cafe de Noel
💖6/24 yolis & Juna LIVE @Jiyugaoka hiphen
_________________________
Juna.