Hey guys!!  I'm a bass guitar player Juna Serita!!
I had a rehearsal of singer song writer Akane Tajima today .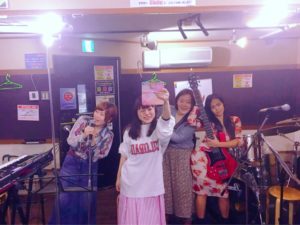 The backup-musicians are
Keyboard: Yuri Edo
Drums : Masayo "Zen" Nakahata
Bass : Juna Serita
We know each other well , so we can always enjoy playing music without nervousness.
Usually I don't listen to J-pop music so often but I do love her songs because of her lyrics.  Without question , she express woman's feeling ❤️
Af night I had a jam session called "Juna's session " as host member .

Bass: Juna Serita
Keyboard: Kodai Taniguchi
Drums : Adam MG
Thanks for coming everyone !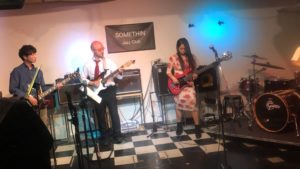 I wanna share my bass solo that I played with 5 strings bass .
This is on my instagram ; )
Probably I'm getting used to playing it … ? : D
It's still difficult to slap slap tho..lol
See ya!
_________Pickup event schedules ________
💖4/30 yolis&Juna session@SOMETHIN' JAZZ CLUB B2 in Ikebukuro
Host member  Vocal:yolis / Bass: Juna Serita / Drums : Masatoshi Kanazawa/Guitar:Ryan Carter/Keyboard : Nobuhiro Takamoto/
20:00~ 23:00 charge 1,100 yen , 3drink 1,100 yen
💖5/20 Lab.  LIVE@ Fussa Cafe de Noel
💖6/24 yolis & Juna LIVE @Jiyugaoka hiphen
_________________________
Juna.