Hey guys!! I'm a bass guitar player Juna Serita!! 
I went to walk around in the morning this is because I wanted to listen to  my bass & vocal original song during I'm relaxed .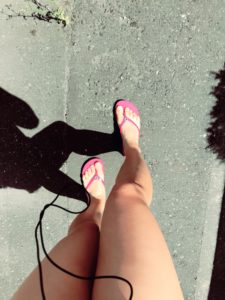 (Don't worry , I'm decent : D)
Surprisingly , about vocal , It was much better to sing while playing the bass .  I haven't expected .
About bass …. I'm pretty sure only playing the bass guitar would be much better than singing at the same time. I'm gonna record this song with a drummer soon but I just  came up with that I wanna take vocal lesson  at least once for my English pronunciation before the recording  ..lol
Anyway it 's so exiting ! I want you guys to hear it soon !
At the night  I had a jam session as host member with musicians!

vocal : yolis
guitar : Ryan Carter
Keyboard : Nobuhiro Takamoto
Drums: Masayoshi Kanazawa
We played both vocal songs and instrumental songs. And yolis was rapping ; ) I do love her rap!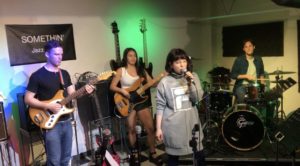 My most favorite keyboard player called Gakushi also came there!! He is the best… I got a little nervous to jam with him because I'm a huge fun of him.. lol
Anyway thanks for coming everyone!!!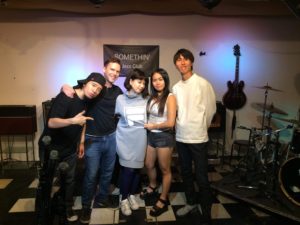 I and yolis will have a gig without any acts at Jiyugaoka Hiphen on June 24th!
Please book your schedule😘
See ya!!
_________Pickup event schedules ________
4/30 yolis&Juna session@SOMETHIN' JAZZ CLUB B2 in Ikebukuro
Host member  Vocal:yolis / Bass: Juna Serita / Drums : Masatoshi Kanazawa/Guitar:Ryan Carter/Keyboard : Nobuhiro Takamoto/
20:00~ 23:00 charge 1,100 yen , 3drink 1,100 yen
5/20 Lab.  LIVE@ Fussa Cafe de Noel
6/23 yolis & Juna LIVE @Jiyugaoka hiphen
_________________________
Juna.