Hey guys!! I'm a bass guitar player Juna Serita!!
Today the piano trio band called Lab. had a gig at Higashi-Shinjuku Circle in Tokyo!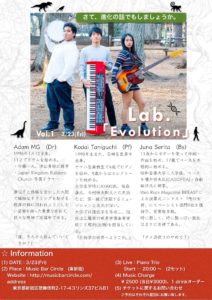 We play instrumental music.  I think people call our music  jazz-fusion.
I really appreciate that many people come to see our performance in spite of the fact that we don't have any promotion video.
We performed about 2 hours.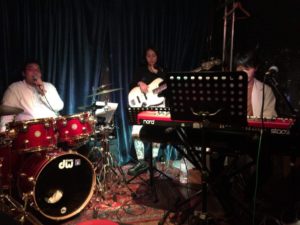 SET LIST
1Origin
2Cambria
3Hallucigenia
4Space Battle Ship
5Cenozoic
6Natural Selection
7Less of heterozygosity
8Paralog
9Genetic Drift
10Evolution
encore:Tell me a  bedtime story (cover)
Our music is kinda session, so it changes every time.
Which means you can enjoy every time even if we'll play the same songs!
Anyway the most songs are irregular metro, like 9/8 , 5/4 . 7/8, and so on … For me, it is  still so difficult .
The drummer Adam MG and the keyboard player Kodai Taniguchi are very good at rhythm .  According to them, they feel 4/4 is difficult…lol
Out next gig is May 20th.   And April 24th, we'll have a jam session as host members at Ikebukuro SOMETHIN' jazz club B2.
Let's jam with us ; )!
By the way
I thought I really want 6 strings bass guitar….
Do you think I can handle that?
See ya!!
Juna.