Hey guys!! I'm a bass guitar player Juna Serita!!
Today was also superb for me!!
I went to  a studio in Hollywood for jamming.  I went there with Uber, but I lost after getting out the car…. lol
A person who walking on the road told me how to get to the studio. Thanks man! He saved me.
When I arrived there , the jam is already started . There are many fantastic players in the room … I was wondering why I'm here…lol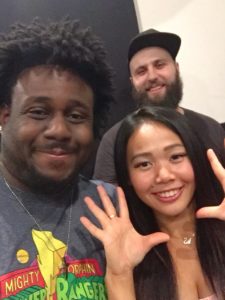 He is one of the greatest bass players called Will Rob.
I just met him today. When he played my fender jazz bass, the sound was totally different…!!!!!! Oh my goodness… I really like his groove.!!
I had some sessions , but I have only a video.
https://www.instagram.com/p/BeM3uPqgOgo/?taken-by=junaserita
The member is
Bass: Juna Serita
Drums: Josh  JBake Baker
Guitar: Mike Lis
Drums: Payge Cooper
It was really nice meeting.
I could exactly understand that I need to learn music more….; (
Thanks everyone !!!
See ya ; ) !!
Juna.