Hey guys!!  I'm a bass guitar player Juna Serita!!
Today is the second day for music tour .   SHOKA OKUBO FUNKY PROJECT's gig took place in Osaka SO.Ra without any acts.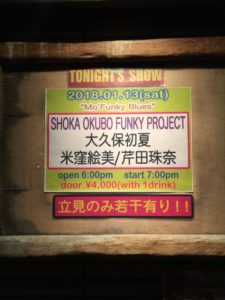 It was full !!! Super thanks!! Osaka's people are always sweet to us.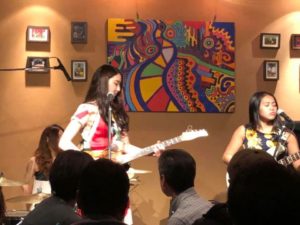 SET LIST 
1 Do the Funky
2 Hold on I'm coming 
3 I wanna take a limo 
4 Eye of heaven 
5 My soul 
6 Baby I like what your doing 
7 People say
8 Boom Boom Boom
9 At the foot of canal st
10 I'm ready 
11 Listen to the music 
12 I pray for world peace 
13 Who did you think I was
14 Soul Shine 
15 Crocodile tears 
16 The JAM
(Anchor)
17 I can't quit you baby (with Tim)
18 No one to run with
I also sang two songs as main vocalist ; ) It is probably rare case.
In the anchor , the drummer Emi's  friend Timothy Reid sat in us! He is a guitar player and live in Osaka.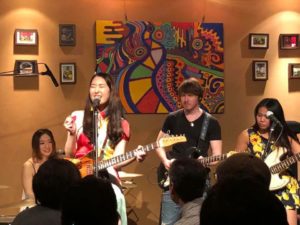 We played slow blues together . His phrase was superb!  We had a nice conversation with instruments ; )!
When I was performing , people looked so excited . I'm sure Osaka's people love blues, funk.
Thanks for the gifts, too.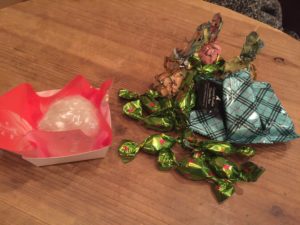 I'll eat them little by little.
Tomorrow is our tour  final day .  Maybe the SET LIST will be totally different with today.! You should come ; )!
See ya!
Juna.