Hey guys!! I'm a bass guitar player Juna Serita!!
today's meal menu
breakfast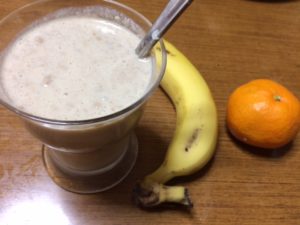 banana/ orange / smoothie (whey protein+soy milk + a bit of milk )
lunch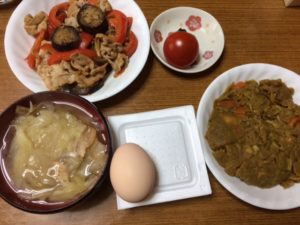 natto+egg/curry / tomato / cabbage soup / stir fried pork and vegetables (eggplant / red bell peppers /shiitake mushroom )
dinner(inShimokitazawa  Kurosawa Shokudo)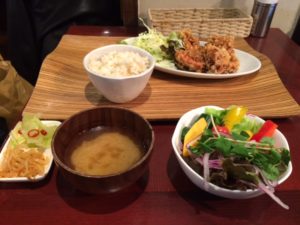 Deep fried chicken set /
Today I went to see my friend's gig(guitar player Hideaki Yamakado & bass player Ogan chan) at Simokitazawa Garden.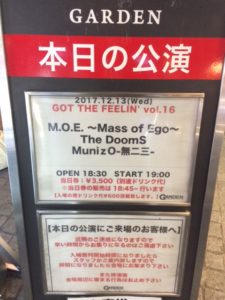 When I got there ,the band that I don't know was performing.
"MunizO-無二三"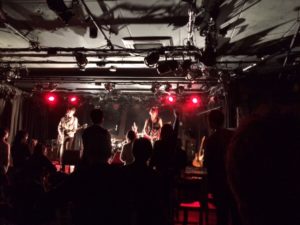 Seemed like it is it is very noisy . I expected my ears would be injured , so I was about to get out and wait at the entrance until head liner performance(my friend's band).
But the drums sounds caught my hart , and also his physical performance caught my eyes perfectly .
The member is guitar & vocal / guitar & vocal / drums . Trio band. There is no bass guitar player.   Although ,one of guitar players were slapping almost all songs. I was wondering why he didn't choose to play bass guitar instead of guitar.   Little by little I realized. The sounds they want to express need two guitar without question.
They are badass….!  I wanted to them earlier.
Holy shit.
This is their youtube video , but I'm pretty sure you never know their all attraction through only video.  I recommend to see their performance in real life.
Overtime, my friend's band M.O.E started their performance.
In my opinion, the guitar player Hide is good at rock/ metal/ and so on .. and the bass guitar player Oganchan 's cup of tea is blues rock.
However the band performed exact Fusion !!   Sounds toooooo difficult !! lol      Get outta here…..  They are superb.
They had 60 minutes for performance but they played only 6songs since each songs are almost 10minutes…lol
I'm pleased that I could hear their solo section much.   Most songs were instrumental music but the bass player Oganchan sang only one song as a bass & vocalist. It was the best for me!! It beats me that when I hear blues music I feel so good.   I didn't mean it but perhaps my heart is full of blues music after all because of Shoka Okubo…lol
It was great show. Thanks you guys!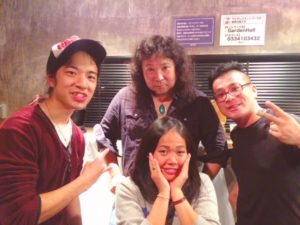 Today's workout
・3sets of 2min pranking 
・3sets of 20 chest press (18kg) 
・3sets of 15 pulldown (18kg)
・3 sets of 20  inner &outer thigh(23kg)
・3sets of 10 barbell squats(30 kg) 
・2sets of 40 min walking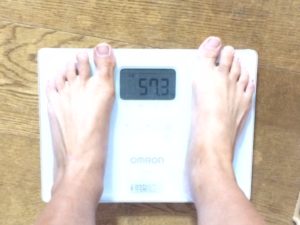 Juna.