Hey guys!! I'm a bass guitar player Juna Serita!!
TODAY'S MEAL MENU
breakfast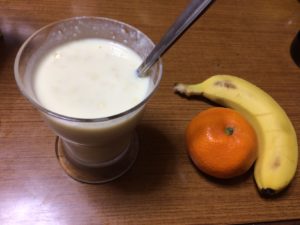 smoothie (2 spoonfuls of protein + soy milk + a bit of milk+ amaze )/ orange / banana/
lunch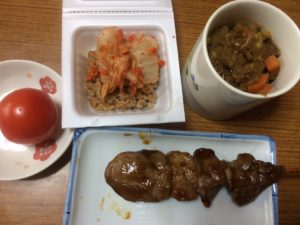 liver sick /tomato / kimchi and natto / curry /
dinner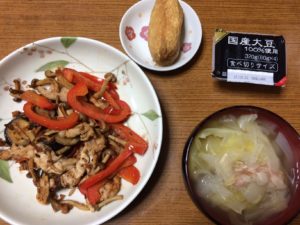 cabbage soup / stirred pork and vegetables (red bell pepper / maitake mushroom / eggplant )/to-fu / sushi in wrapped fried in to-fu/
I'm over the moon 'cause I could play my main gear Fender jazz bass finally!!!!
https://www.facebook.com/junaserita/videos/1211847635625971/
I brought my ESP bass guitar in the Philippines . Of course it is not bad, but never beat this.   I'm keen to sleep with it tonight….. Perhaps everyone doesn't know how much I was missing it!!
Although I didn't have enough time to play it today.
I thought I took vacation  until 17th   since I wanted to focus on preparation for my gig, but seems like I did not do it and my English lesson in Japan restarted today.
I'm attending group class ,but fortunately the student was only me. lol
The teacher is  same with before.  He was interested in my experience in the Philippines.
Surely I have many stories to tell him , so we had a livery conversation.
Teacher「Is there any difference between Japan and foreign countries?」
Juna「Uhh  maybe there are many differences ….  but the things I was really surprised is  most foreigners think Japanese women are bitch . The reason is that they thought so from Japanese adult videos . Of course I told them "No" because it is just business.  The process is  depends on the person. : ( 」
Teacher 「Ahh,  I think not bitch.  Some people think just "EASY".」
Juna「Oh.. I see. 」
I don't wanna be easy…. lol
We had talked  for an hour without pause.
To be honest, I was always nervous when talk to him before  because I couldn't understand what he said sometimes and also I couldn't express what I want to say  .  However today, I almost  understood what he said . And even if I couldn't understand, I can ask him in English and he will explain in other word.
And the reason I picked up the conversation topic on the blog in spite of the fact that we also had other topics  is that I don't mean to like dirty topic, but I was just happy that now  I can debate like this private topic in English. : D hehe
He was very surprised at my improvement .
After the class, the stuff recommended that I transfer two levels higher class.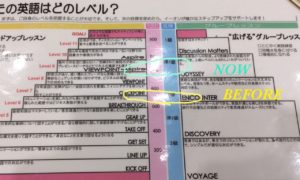 It sounds like very difficult…..
I 'll just bite the bullet .
see ya
Today' s workout
・3sets of 30 squats
・3sets of 15 bulgarian squats
・3sets of 40 back kicks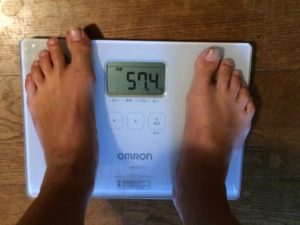 Juna.