Hey guys!! I'm a bass guitar player Juna Serita!!
TODAY'S MEAL
breakfast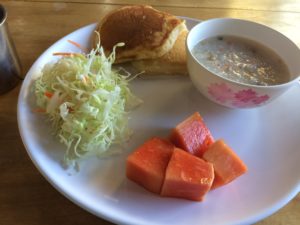 cabbage / papaya / rice porridge / pan cake /
lunch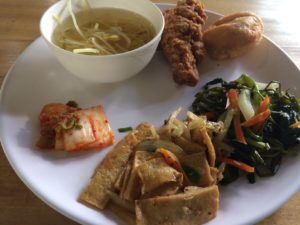 spinach  / kimchi / deep fried to-fu / bean sprout soup / deep fried chicken /
dinner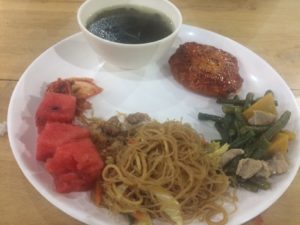 watermelon / hamburger / stir fried vegetable and meat / seaweed soup / rice vermicelli /
Today I was looking for the room I'll stay when I'll be in Los Angeles .
First, I found a quite cheap dormitory near by downtown.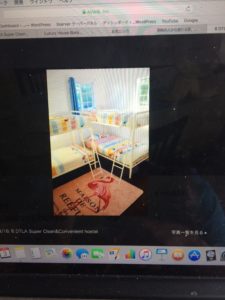 Which has wifi,breakfast, and so on .. but there is no laundry …  So  I was considering this and another one.
And I consulted my mother,too.   She said that I should choose a higher grade hotel  'cause safety is most important. Above all ,she will be worried if I will choose it.
I told her that my budget is not enough at all, so  I can't afford to spend money for accommodation  .
Then she asked me whether I know the fact that this dormitory is mixed-gender room , and she thinks  probably  there would be some guys who apply for doing "something" in the mixed-gender room.
To be honest, I overlooked the information ….lol   I'm so embarrassed : D
Of course , I shouldn't choose it even if the male roommate is my close friend.  I don't wanna be pregnant still now… : (
All men are always "wolf" even though I'm not an attractive woman  .   : )
And the other accommodation doesn't say anything about the  bedroom set-up .  So I sent a message to the owner.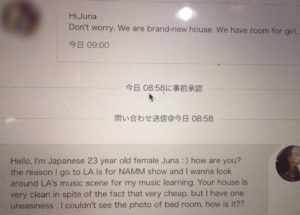 Juna「Hello I' m Japanese 23 years old female Juna. How are you? The reason I go to LA is for NAMM show and I wanna look around LA's music scene for my music learning . Your house is very clean in spite of the fact that very cheap . But I have one uneasiness . I couldn't see the photo of the bed room . How is it??」
Owner 「Hi Juna. Don't worry . We are brand-new house . We have room for girl. 」
The owner gave me response quickly . It helped me. Therefore I booked this owner's room.
I told about it to my mother ,too.   Maybe she is relieved a little…?
Anyway, I can't wait LA trip!!!
See you in LA or NAMM ; D
Juna.