Hey guys!! I'm a bass guitar player Juna Serita!!
TODAY'S MEAL
breakfast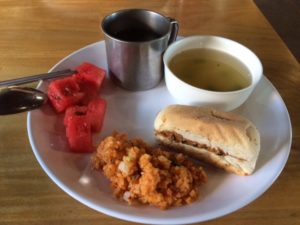 bread with peanut cream/kimchi rice / soup / watermelon / black coffee /
lunch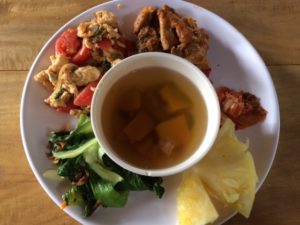 pumpkin soup / pineapple /spinach / kimchi / egg and tomato  / chicken /
dinner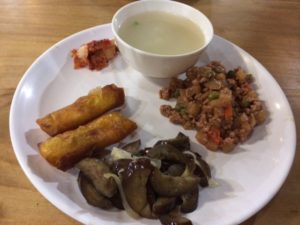 deep fried spring rolled banana / eggplant / stir fried minced meat and vegetables /kimchi / soup /
Today is Friday . The curfew is at 10 pm on Weekday and Sunday . Which means, I can go out only Friday and Saturday .
There are some friends who invited me to eat out ,but I need to save money seriously….  So I just went out by myself .
First, I dropped by SM mole for exchanging yen to ph. It was already  almost 8 pm . Many snacks tempted me even tough I'm building body , but I beat them!!
I was looking for a bar named "Drop out".  My teacher suggested the bar to me for sitting in .   According to her, it is close by SM, but I couldn't find out . Therefore, I asked sedulity guard .
「Excuse me, do you know where bar DROP OUT is?」
「DROP OUT……? uhh…….    ah…… It is DROP OFF, right?」
「Oh… Really?   Okey, drop off….」
I thought I had a mistake to write the name down when I heard the name from the teacher. And then I followed his advice .
I walked for few minutes overtime I asked other guard about "bar DROP OFF" .
「Here!!」
There was nothing obviously… just exit.  I realized the guys I asked surely misunderstood that I was looking for the place people  drop someone off from their car…
That's the way it is..I ended up looking for the bar without helping. The information I have is only it is around SM… difficult..
The moment at which I was about to give up , I saw a sight board written "drop out" far away…..!!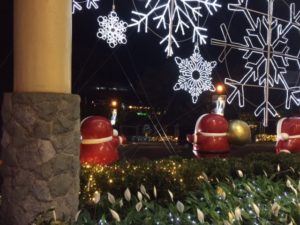 White letters on a black board .  Maybe you can't see from this pic..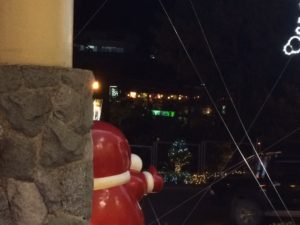 Finally I could  get to the bar DROP OUT!!
To be more exact, music bar wasn't DROP OUT but  It was in the same building with drop out.
Unfortunately , the style was acoustic.  I couldn't join 'cause  no bass guitar… ; (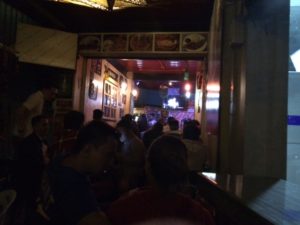 Although, the musicians both guitar vocalist and percussionist are cool.  In particular their reggae feel.  I wonder why many Filipinos musicians are good at reggae? Because of  island ?  I think the rhythm of Tagalog language is also related to it…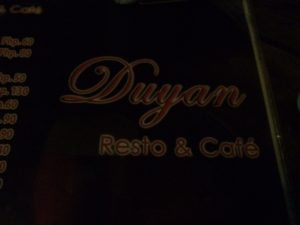 I'll try to go to other bar or bar concoction tomorrow, too..
See ya!!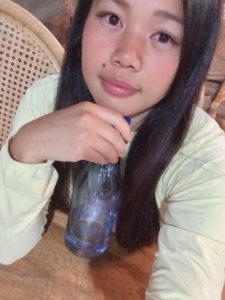 Juna.