Hey guys!! I'm a bass guitar player Juna Serita!!
TODAY'S MEAL MENU
breakfast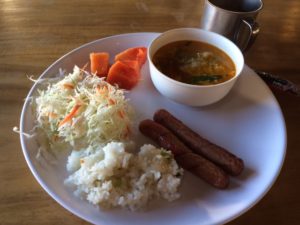 cabbage / str fried rice / papaya / soup / a cup of black coffee / vienna sausage /
lunch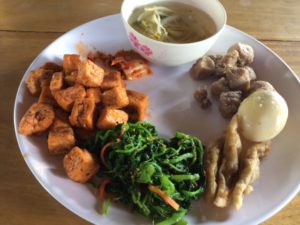 cooked to-fu / spinach / boiled chicken and egg / bean sprout soup / kimchi / deep fried something . (I couldn't recognize ) /
dinner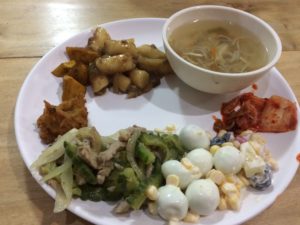 kimchi / soup / macaroni fruits salad with egg / deep fried vegetables  / stir fried chicken and bitter melon / tteokbokki /
I am always nervous when I practice  for IELTS speaking exam with teacher. : (
Usually I choose only basic level vocabulary, and every time  it takes time to make sentences. ; (
Therefore , I have an inferiority complex …. : (
I practiced the 3rd part of IELTS speaking exam this afternoon.
Teacher 「Do you prefer to wake up early in general ?」
Juna 「Certainly , I like to get up in early morning . The reason is that I can connect wi-fi easily every morning 'cause there are only a few people at the lounge . And the time we eat dinner is not so late . It is at 6 PM.  If I awake until late night , I'll be hungry and I can't bear my appetite . It will bring me to get fat. That's why I like getting to bet early and getting up early.」
「Let me ask you second question. When is it important to be on time?」
「Ummm .. I  think it must be appointment . This is because if I'll be late to go there, it means someone needs to wait for me . We shouldn't take someone's time because time is money.」
「Ok. Why do you think it is important to be on time?」
「Ah.. In my opinion, the person who is usually late to time cannot be trusted by others. Especially in the situation of business . So, in particular Japanese people are very strict about the time. 」
「Okey.. alright . What locations is it not good to be on time?」
「Uhhhhhhh … It's a tough question…  Ah,  I like to be late on a date!  」
「Date, okey. lol」
「The reason is that I want the man to think about me much…. hahaha」
「Okey! Good ! Good !」
「So , generally I'll be late on a date .」
「Okey, why do you think that method is important to be late on a date? 」
「In my opinion, If I'll be first or I'll be on time, maybe the man thinks I fall head over heels in love with him.  I want to avoid the situation since I want him to love more than me.」
「Okey. I already downed your score.  What score do you need?」
「I want….. Seven.  : D」
The score he's given me  was…
6.5!!!!
Wow it's much higher than I thought . !!!!! Yeeeeah thanks a million teacher :D♪♪
According to him, my answer was creative and interesting , so he added score . lol
I'm over the moon 'cause I'd thought I suck at speaking belong IELTS exam.♪♪
I'll continue practicing  ; D!!
BTW Today I could beat my desire for mango-milk-shake!!!
And I just ordered American coffee .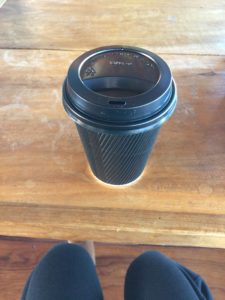 I do love drinking black coffee after all. It gives me good motivation to work harder .
See ya!!
Juna.