Hey guys!! I'm a bass guitar player Juna Serita!!
TODAY'S MEAL MENU
breakfast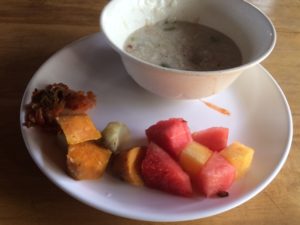 water melon / potato / kimchi / watery cooked rice /
lunch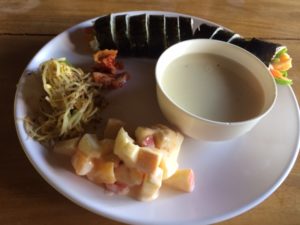 beans sprout / fruits salad / kimchi / gimbap / clam chowder /
dinner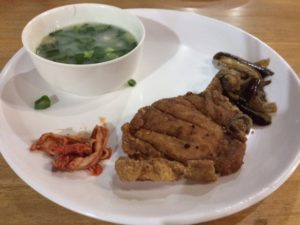 fried chicken / kimchi / eggplant / green onion soup /
I wanted to go to a bar for jamming.  Before that I bought toilet paper 24rolls and a bus ticket for going back to Japan .
As a result, my budget got be only 200 PH …. lol
I need 100 PH for taking a taxi to the dormitory , so I can spend only 100 PH… It's possible to drink only a grass  in a bar, but music bar must be more expensive than normal bar.  Above them, all of exchanger was closed already..
I couldn't play music last week, too.  So I didn't want to give up .. I looked for some bar which has live bands . I expected my favorite bar CONCOCTION doesn't have full band today .  I had no ideas except concoction cause  most Philippines bars don't have web site which have plenty of information about it.
I walked around on session road . Some bars seemed to have performances , but it was acoustic probably .
Then it was 10:30 PM already. I felt a little afraid since I'm a woman… 😀
I couldn't help to come back to the dormitory .. : (
I'm so frustrated : (  Therefore after coming back , I played the bass guitar until late night… : (
Juna.