Hey guys!! I'm a bass guitar player Juna Serita!
TODAY'S meal menu 
breakfast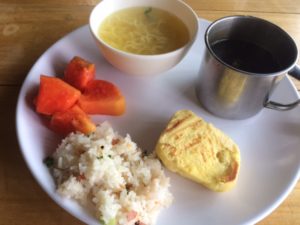 black coffee / bread / stir fried rice / papaya / ramen /
lunch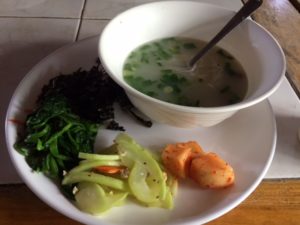 noodle in soup  / kimchi / stir fried vegetables / spinach /
dinner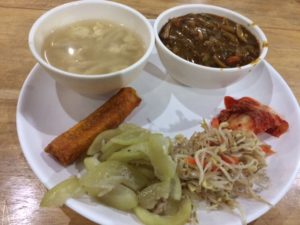 curry / fried spring rolled banana / stir fried vegetables / kimchi / beans sprout / soup /
Today I played basketball with my friend after eating lunch .
The member was Haru(Japanese) / Pei (Taiwanese) /  Estor (Taiwanese) / Sherry (Taiwanese) /  Miho(Japanese), and me. All woman and they are a little older than me except Miho.
Normally, ballgame needs some people if I wanna have a game. I didn't have a chance to play basketball so often as I couldn't find people who enjoy exercising . When dining room's stuff play basketball , sometimes I join them . Unfortunately , After I changed a course our time doesn't much . So I could play basketball for the first time in  a while. : D
According to Haru and Estor , they were in basketball club team when they ware high school students. I also used to play basketball when I was in junior high school. Above them, I expected I'm  equal to them.
However , they were much better than me ..lol I'm embarrassed . Haru has incredible drive skill, and Estor haven't forgot how to use her body at center play . Before playing _ I didn't ask them which position they were ,but I realized from their play style.
Others also had nice plays in the game.  In my opinion, today's MVP is Haru : D I wanna beat Haru and Estor!!! Anyway I could have a marvelous time cause of them ; D Thankful my friends.
I need to practice . : ~ |
Juna.