Hey guys!! I'm a bass guitar player Juna Serita!!
TODAY'S MEAL MENU
breakfast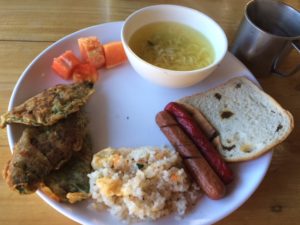 stir fried rice / minced pork in fried shiso / papaya / ramen / vienna sausage / raisins bread / black coffee /
lunch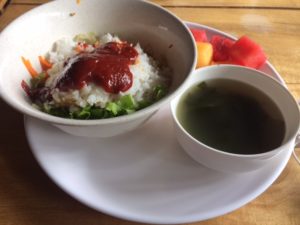 bibimbap / seaweed soup / watermelon /
dinner
stir fried vegetables / meat and potato and tteokbokki / kimchi / soup /
Hey guys!! I'm a bass guitar player Juna Serita!!
It have been nice weather in Baguio City , Philippines currently.
It makes me powerful : D As a result I became an early riser .
Today , I got up at 5:30 without alarm clock .
The view I can see from the balcony is superb. I fancy playing the bass guitar there.
However today it rained  in the evening.  And all power was cut : |
We ware having dinner in the darkness .lol  That's why my dinner's photo is not bright enough.
All of a sudden , It happened when I was taking writing class.
Therefore , I and teacher ended up to give up to continue our class.
As a result  I have so many homework….It' s killing me.
I hope someone could finish homework instead of me while I was sleeping  : D
Well, I need to focus on my homework.
Bye.
Juna.