Hey guys!! I'm a bass guitar player Juna Serita!!
Today's meal menu
breakfast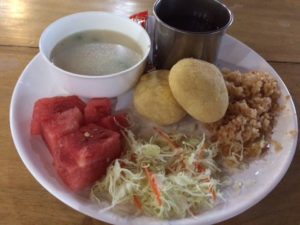 two peaces of bread / watermelon / stir fried rice tastes kimchi / soup / fresh vegetables / a cup of black coffee /
lunch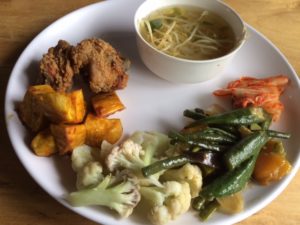 kimchi / cauliflower/ okra and pumpkin / sweet potato / beans sprout soup / deep fried chicken /
dinner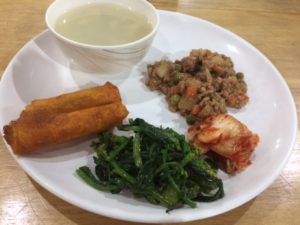 spring rolled banana / spinach / kimchi / stir fried minced beef /
Today 11/11 is called "bass day"right?  I don't know whether it is global or not, but it is already common among bass guitar players in Japan : D
So I uploaded my new video on youtube , it is my favorite bass guitar player 's song Pow – Larry Grahm !!
Larry Graham is one of my favorite bass guitar players .  All of other my favorite players are  effected by LarryGraham .  Therefore I think he is a living legend ! ; D
His song is not so complicated ;however it is not a walk in the park to groove like him.
I need to learn more : D
Juna.