Hey guys!! I 'm a bass guitar player Juna Serita!!
I went to eat out for lunch with my batch mate Yuki(form Japan), Saki(from Japan) and Lilian(from Vietnam ) today.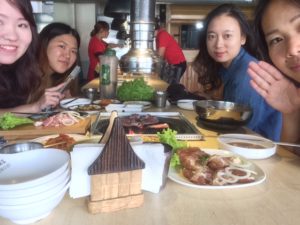 This is  a Korean food restaurant. It seems that Yuki and Saki have come here before.
Actually , I worked out at the gym of dormitory for the first time in a while before going out. So I need much proteins today for building my body!!
We ordered two plates of samgyeopsal ,but unfortunately they were out of samgyeopsal. We ordered other kinds of meat and some dishes .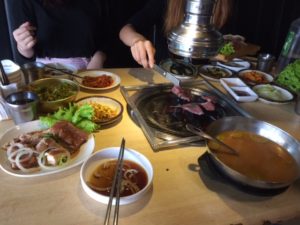 I enjoyed having good protein.♪♪ I'm very satisfied with most foods !
However only this miso soup was too salty .. We all couldn't have this enough. If we drink all of this , it 'll bring about something bad for our health….lol
After eating, we went to buy bus ticket for long vacation in the Philippines.
I could buy one way ticket without problem, but there wasn't the ticket from Manila airport (Ninoy Aquino International Airport)to Baguio on the day I'll be back . So I bought the bus ticket that it departs from other place where is a little far from airport.
The crew of ticket shop told me I need take a taxi to the place.
When I arrived in Manila on the first day of studying abroad, it was crowded with strange taxi drivers . They talked to tourists  random and persistently.  According to my mother, my elder brother(He also went to Manila for 2 weeks to study abroad.) also stuck his chin out in taxi. Above them , I don't have a good impression about taking a taxi in Manila . I'm anxious about it..
However, there is such a proverb in Japan.
" Let lovely girl(or boy) take a journey . " 
(translated into Japanese to English straightly .)
I know I'm not special…lol  But I'm pretty sure having many experiences makes our personality improve.  Some danger would be good for me. ; )
Juna.