Hey guys! I'm  a bass guitar player Juna Serita!!
Today , Halloween party took place in the school.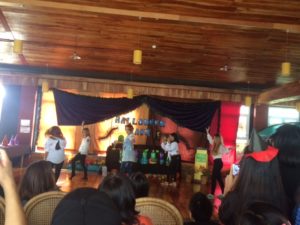 In my opinion, generally  Japanese people are not willing to join some event like that . However , all of teachers looked really fun and they spent much time to prepare for the halloween party. I got like Filipinos personality more.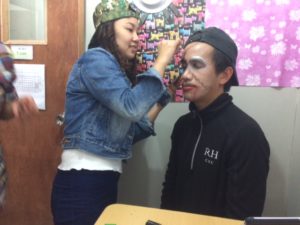 At first, I was wearing short pants but a male teacher said to me that I should change the cloth cause guys are intimidated .  My gosh…Sorry to hear that.   Anyway  I accepted  for his asking. It couldn't be helped.
And my reading teacher asked for playing the bass guitar in the party me , so I requested a teacher who can play the guitar to perform with me .  We practiced for around 20 minutes.
Then we ware talking about music bar. I asked him if he know the bar CONCOCTION. It's my favorite. He said he has never gone there .
Teacher「But maybe I saw your video on Facebook .  A girl was playing the bass guitar on the stage, right?」
Juna 「Oh… girl ? It's me! lol 」
Teacher 「Oh really? You!?」
I don't understand why he couldn't recognize the girl is me.lol
At the performance, he looked so nervous and also we had some microphone trouble. I hope we'll play together again maybe next time. ; D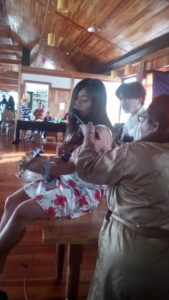 After that , both teachers and students enjoyed BBQ party but there were quite a few people . I was starving and I expected the foods is not good enough . After all, I went to eat at the dining room as per usual .  I'm super glutton in spite of fimale …
Bye.
Juna.