Hey guys!! I am a bass guitar player Juan Serita!!
I have always considered  where I can play the bass guitar with local musicians.
So when I was in Japan ,I searched on the Internet, then I found some music clubs and sent messages to the owner  .
And then I expect the best music bar is Concoction Baguio.
I invited Rocky because Rocky loves music. Rocky was afraid if the bar is dangerous place. She has heard that some student was stolen their wallet  in other night club and she was worried about my few information. It is open 24 hours and there is the live performance everyday.
Anyway It's been already  2 weeks I came here. I have never had a session with someone. I AM A BASS GUITAR PLAYER JUNA!   I never want to forget it. And I am just interested in Filipino local musicians. Those are  why I was looking for the good music bar here in Baguio, Philippines.
We went there by taxi . The time that we arrived there was  9:20 p.m. But it was crowded with people yet.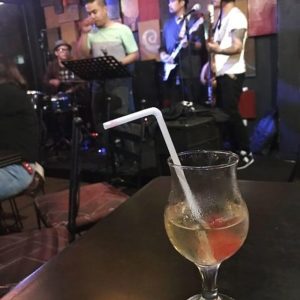 And we could see the live performance of local musicians. I didn't know the songs played by them, I think it is old American hit songs…. maybe.
All musician was great. Especially I respect the bass guitar player. I was really pleased with his reggae music groove  !!  Above them they has too much repertoire and if audience request songs, they can play!.
When the vocalist asked if we have some songs that wanna listen to, I told him that I wanna play with them in a pound voice from our seats .
They asked me weather I can sing, I said to them I WANNA PLAY THE BASS GUITAR!
The band member and audience looked be very surprised and the bass guitar player lend me his instrument. Thankful.!
On the stage , the guitar player or vocalist asked me some question through the microphone  , but I couldn't understand what they meant because of my poor English skill. lol  Maybe audience also was laughing me…I was really ashamed….I need to study English harder…lol
We played two songs!!
Then
I exactly realised that Filipinos loves music and it reminded the great feeling that I had a live performance for the first time in my life…. I appreciate of the kindness of all people.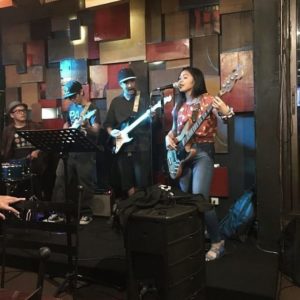 Rocky was very surprised . She said to me that she had expected playing the bass guitar is just hobby for me but it was wrong. She always asked me to play the bass guitar front of her.
So I'm so happy to show my performance to her.♪
After the performance, young two mens talked to us and drunk together. Maybe in Japan, it is called "nampa"..? lol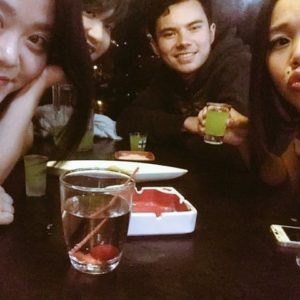 Although , they are our first local friends ! Thanks for the fun time!!
When we ware going back to our dorm, Rocky said
「I'm your big fun!!! Why didn't you tell me anything!?  I thought bass is just your hobby but you are professional … Ahhh I really don't want to go back to Korea… I wanted to know the bar earlier…」
Rocky looked be pleased with the bar. I agree with her. Probably I 'm gonna go to the bar concoction again !!
I had a best night .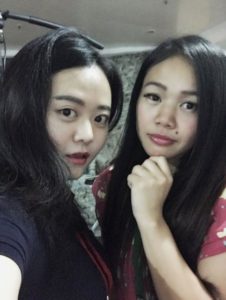 Juna.