Hey guys! I am a bass guitar  player Juna Serita!!
Today's dishes !!
BREAKFART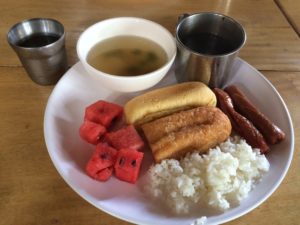 kinds of bread /water mellon / rice/ vienna sausage/soup/black coffee/
LUNCH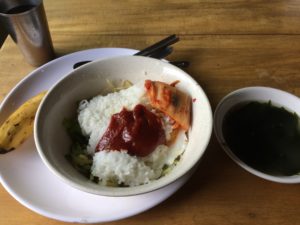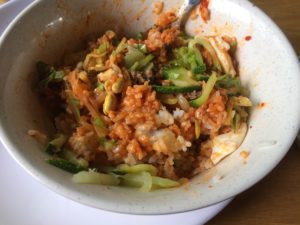 This is bibimbap(mixed rice)!! It is Korean rice dish. I liked it! Many students looked very satisfied.   And banana , seaweed  soup.
DINNER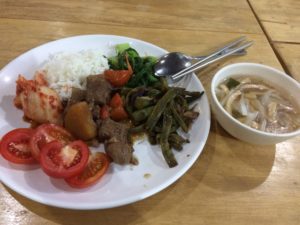 tomato/kimchi/rice/some vegetables/meat, carrot and potato / soup of Japanese white radish with something.
So today, the classes have started, but new student doesn't have textbooks . So we got know each other and just free talked.
Oh, I misunderstood the time when I got up this morning,too. I  was going to get up at 6:30 a.m. But I got up 5:30.. Getting up early is a good thing, but too early.lol
However I didnt feel sleepy at all cause the teachers have a very strong personality .
After the all class, my roommates Rocky and Jenny invented me to go to the lounge to eat spicy foods. Of cause I went .
They said that they can't  find many spicy foods easy in the school.  These are Korean products.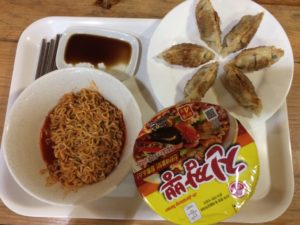 It looked so spicy, I was a little afraid ,but not too spicy. It was good for me.♪  It's okey while biting , but I felt so spicy after deglutition. It's very interesting!
They told me that they have more spicy foods.
I can't wait to try!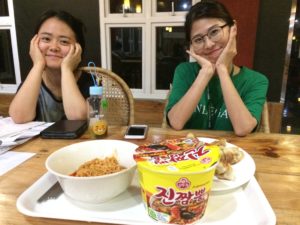 Rocky and Jenny.   They are very beautiful,right?★
We have still just barely gotten to know each other but I like them so much already!! I am really lucky to be a roommate with nice persons like them.