Hey guys!! I'm a bass guitar player Juna Serita!!
I had a gig of Jeff Beck tribute band at crawfish in Akasaka, Tokyo.
I just came here crawfish last Sunday to see friend's gig. I kind of like crawfish cause audience can take a seat and eat some foods.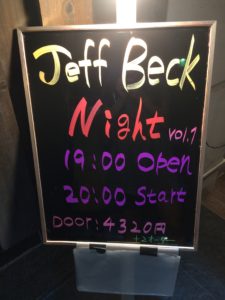 The band member
Gt. Isamu Houda
Key. Harunobu Okubo
Ba. Juna Serita 
Dr. Daiji Okai
I am so happy to perform with them. They are Japanese ROCK legends.
SET LIST
1st
1. Beck's Bolero
2. Savoy
3. Hurricane
4. Goodbye Pork Pie Hat Brush With The Blues
5. A day in the Life
2nd
6. Where Were You
7. Big Block
8. Cause We're Ended as Lovers
9. You Never Know
10. Sling Shot
11(encore) Blue Wind 〜Rond〜 Blue wind
12(encore) I'm going down (with the guest guitar player Makoto Takahashi)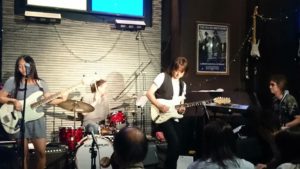 The guitar player Isamu had a great performance as "Isa Beck".
Of cause , I also did my best as "Juna Wilenfeld".♪♪
However I don't reach her feet still now… She is my idol.
Actually , JEFF BECK Night vol.2 will be presented on the 15th December!!
Crawfish's manager decided it today!
I'll come back to Japan on the 10th December. So it will be the first gig after study abroad in the Philippines.☆
I wanna play Red boots and scatterbrain next time.♪♪
By the way I have to clean up my room because my mother and elder sister are going to come my place tomorrow evening.
But…. I'm sleepy already………….,,,,,,,
Good night.
Juna.