Hey guys! I am  a bass guitar player Juna Serita!
I'm big on this smoothie lately.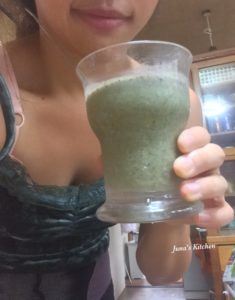 I always drink a cup of smoothie every morning.
It is made from
water / soy milk / amazake sweet drink made from fermented rice / powder for green soup / protein powder tastes cocoa / asai powder /
Most people misunderstand that powder for green soup is so nasty. However it tastes like green tea.
And it is mixed with amasake and protein tastes cocoa, so it will be sweet. This smoothie tastes like sweet green tea au lait. Very yummy,but very good for the health and dieting.
A fan gave me this asai powder as a present.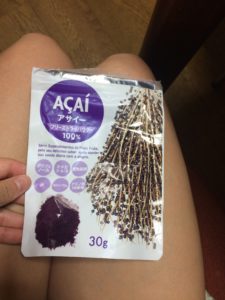 Asai is a super food.
It has many polyphenol,calcium,dietary fiber, and vitamin, amino acid.
I am happy to eat this, THANKS!!
And this is my usual lunch.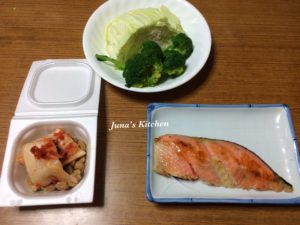 cabbage,broccoli, natto(ermented soybeans) and kimchi, fried salmon.
Probably many people eat much foods in lunch time, but I always eat much dinner more than lunch.
When I have dinner myself, I always have it at around 6 O'clock . However usually I go to bed at 3 A.M.  I have long time from dinner to go to bed. I will hungry then….  That's why I eat much foods in dinner.
I don't want to be stressed out.♪♪
Much stress is enemy of dieting!
Juna.