Hey guys! I am a bass guitar player Juna Serita!
I went to the personal gym called beaugoal  in Roppongi today!
I think this training is hardest for me. It's always killing me.
However drinking protein juice couldn't be better after hardest workout! LOVE.
And I had a meeting of SHOKA OKUBO BLUES PROJECT at Shibuya in Tokyo.
The caffe called JINNAN CAFE she chose.
There were many healthy foods.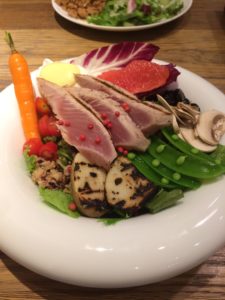 I'm sure that's why it is very popular from women. I am happy to eat many vegetables .
We talked about our activities in near future.  We don't have much time, but We have many things want to do.
SHOKA OKUBO BLUES PROJECT's next gig.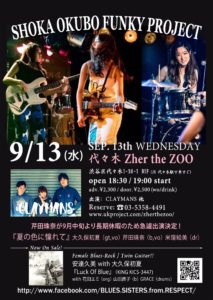 9/13(Wed)
Yoyogi Zher the ZOO 
Open 18:30 / Start 19:00
Ticket :(adv)¥2300 / (door)¥2500(+1D)
acts:
SHOKA OKUBO FUNKY PROJECT
  [Shoka Okubo  g,vo / Juna Serita b,vo / Emi Yonekubo dr] ,
CLAYMANS
 [Vo/G.Maiko Narimoto] http://ameblo.jp/narimoto-maiko And more..

Info/Reserve :Zher the ZOO:TEL 03-5358-4491 / zherthezoo@ukproject.com
Venue/Access :東京都渋谷区代々木1-30-1 B1F / tel.03-5358-4491
Zher the ZOO, Yoyogi, Tokyo
http://www.ukproject.com/zherthezoo/
Probably We won't have a gig in a while. So please come to the gig!
Juna.