Hey guys! I'm a bass guitar player Juna Serita!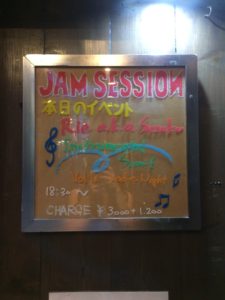 I had a gig of Rie a.k.a. Suzan at JAM SESSION Okachimachi in Tokyo today.
Today's member!!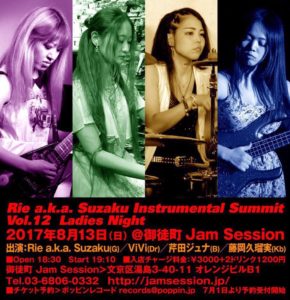 Guitar : Rie a.k.a. Suzaku / Drums : ViVi / Bass : Juna Serita / Keyboard : Kurumi Fujioka
Thanks for coming! The live music bar was full.
SET LIST
1. Stardust
2. Southern Wind
3. Savanna Run
4. Night Flower
5. Blue Planet
6. Time Paradox
7. Sunrise
8. Bird Island
9. Love Me
10. Kingdom of the Sun
11. Ocean Breeze
12. Seven Seas
13. Across the Sky(encore)
We performed many Rie's original songs and two cover songs.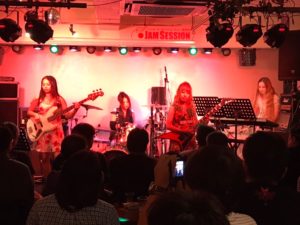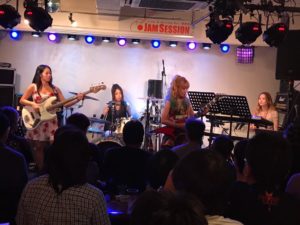 Those were "Savanna Run – 野獣王国 " and  "Love me – PRISM ".
Rie and production's boss asked me to play fantastic slap bass  like Yoshihiro Naruse(from 野獣王国,CASIOPEA). He is one of the most popular bass guitar player in Japan.
When I was high school student, I watched his instruction video on youtube and I was very impressed by his slap bass.  So he is one of my favorite bass players.
When I played the song at the gig, I was really nervous.lol    Maybe it will be uploaded on youtube by Poppin record later.
There were many solo section. We played a lot of solo play.  It was really good jamming.  And Thanks for buying my solo CD!!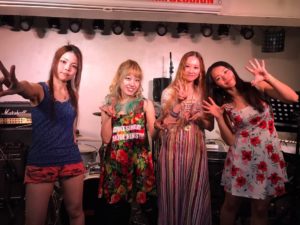 I am looking forward to play with Rie again!!
I like her guitar play.
---
Juna.
---